I honestly could not believe it when I looked at my blog and realized that in December I had only written a handful of posts! I had to sit back and consider why. Granted the holidays take extra time to prepare for but that is no excuse. Looking back at December, which is almost over I realized a lot has happened that distracted me from blogging.
I had a breast cancer scare this month. Everything turned out okay in the end and I just have a lot of cysts, too many for the radiologist to count. No cancer though, which I am very thankful for.
My eldest cat, Vino has been very sick. He has been into the vet a few times, on medications, which have helped, but he keeps showing new symptoms here and there. He is losing a lot of fur, and we fear he is failing. He is getting tons of love and attention, as he always has of course. Our pets are extremely special to us, part of our family, so anticipating his passing is not easy.
My daughter turned 21 this month and is planning to move into her own apartment. We have been busy collecting items for her new place. A lot of our holiday spending has been reduced in order to facilitate her needs in her new home.
I also took some time to visit my grandmother which was a lot of fun. She loved the stuffed doggie I took to her. I am angry with myself right now because I took some wonderful photos of her snuggling this stuffed dog but I can not for the life of me find them! This however is par for the course this month as I swear I have never felt so disorganized. I think it is just that there are too many changes around me, and outside of my control perhaps. So for that reason, I feel I became somewhat resigned to just take it easy, and not allow myself to feel pressured. Perhaps I took that too far haha!
I think rather than taking it easy, I sort of dropped the ball.
You know what though? That is okay too! It is alright to just stop now and then, and let things be. We do not need to control everything and when our minds and bodies get overwhelmed, we need to allow ourselves a break, to just simply punt.
I will collect myself and come into the new year refreshed, and with a bang! You can count on it.
I hope each and everyone of you have a wonderful holiday.
Joely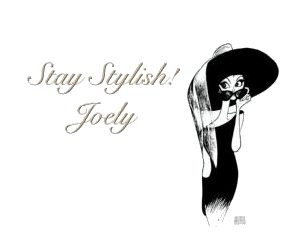 ---
I love comments! Please join in discussion, ask questions, or leave tips for other readers. Comments truly are the driving force behind any blog as it helps the blogger to know what you, the reader want to see more of!
Please Join my Facebook Group
Also On: